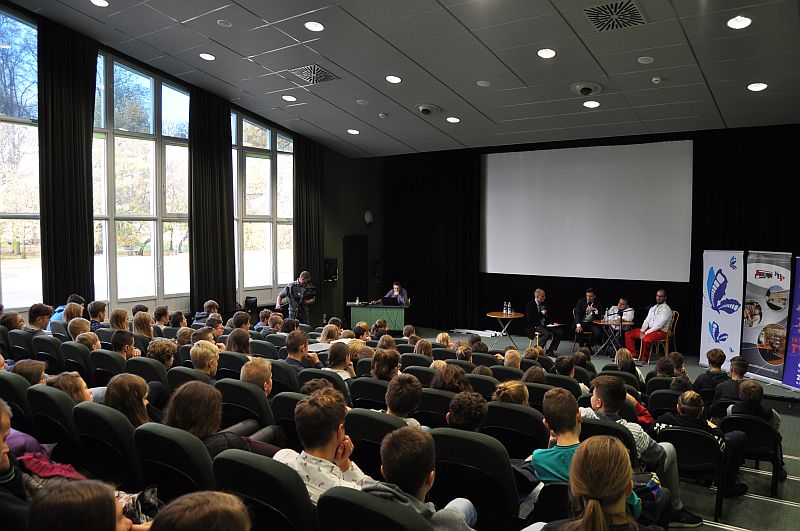 We've met for the 12th time in Alternatywa Cinema at Integration Film Academy. This has been the last meeting this year. This time the screenings were watched by the clients of 'Odrodzenie' Centre for People with Special Needs in Koszalin and the students from Sport Schools Complex. We invited Grzegorz Lanzer (a sevenfold Champion of Poland, a threefold medalist of European Championships in bench-press), Maciej Sochal (a world record holder in club throw – 37,19m, an Olympic Games Champion from Rio de Janeiro) and Paweł Spisak (a three-day-event contestant, a fourfold participant of Olympic Games). The film by Jerzy Jarnas 'Olympians' was watched with great interest and the discussion following the screening evoked many positive emotions. Moreover, the youth listened to the stories of our guests with interest.
This year:
the meetings have been attended by the students of Primary School no. 3 and Primary School no. 4, Junior High School no. 3 and Junior High School no. 11, along with students of 6th High School in Koszalin, School Complex no. 10 and School Complex no. 11, as well as the clients of 'Przyszłość' and 'Odrodzenie' Centres for People with Special Needs in Koszalin, the participants of Occupational Therapy Workshops no. 1 and no. 2 in Koszalin and the blind and the visually impaired readers of the 'speaking books' from Joachim Lelewel's Koszalin Public Library, the students of Romuald Traugutt Air Force Training Centre in Koszalin.– altogether 844 people;
we have also invited the President of Association of the Injured and the Victims in Missions Abroad, the director of Correctional Facility in Koszalin and the President of Culture Council by the President of Koszalin;
The audience has watched such films as 'This is not the end of the road' by Robert Czyżewicz, Jarosław Frankowski, Sebastian Korczak, 'The Second Life' by Sylwia Michałowska, 'Escape from Freedom Cinema' by Wojciech Maraczewski, 'The Eighth Day' by Jaco Van Dormaela, 'Vincent Wants to Sea' by Ralf Huettner, 'Elling' by Petter Naess, 'Life Freestyle' by Adam Palenta, 'Olympians' by Jerzy Jernas, 'Secret Garden' by Agnieszka Holland and 'The Girl From the Wardrobe' by Bodo Kox.
The meetings have also been attended by outstanding sports people - Hubert Wyszyński, Grzegorz Lanzer, Maciej Sochal, Tomasz Majewski, Paweł Spisak, Romuald Rasiak. Each film screening has been preceded by an introduction by Piotr Szarszewski, PhD of the Technical University of Koszalin.