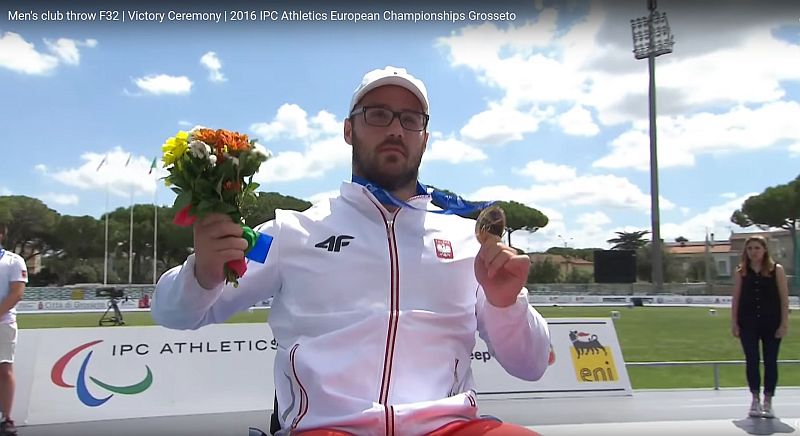 A good friend of European Film Festival Integration You and Me and a participant of Photo Confrontations 'Sport Champions, Life Champions; - Maciej Sochal on June 14th 2016 won a gold medal in club throw during European Athletics Championships in Grosseto (Italy), organised by International Paralympic Commitee. In addition, he also broke the world record with the result of 37,19 metres. Congratulations!
The final of the competitions was very exciting. The penultimate competitor – a Russian representative and a world record holder Vladislav Frolov did very well as not only did he throw at a distance of 36,13 metres and took the lead but also he improved his previous world record from 2015 – 35,94 metres.
Maciej Sochal who followed Vladislav Frolov in the competitions scored in the first four throws the following results: 31,56m, 35,36m, 31,46m and 31,80m. The fifth out of six throws was unsuccessful and it seemed that Maciej would win the second place with his result of 35,36 metres . In the last – the sixth throw Maciej Sochal did something incredible, as the first sports person with a disability he exceeded the barrier of 37 metres and threw the club at a distance of 37,19m and won a gold medal! The silver medal went to Vladislav Frolov and the brown medal to a British sports person – Stephen Miller.
The footage from the final is available on Youtube:
The Medal Ceremony on YouTube:
Serdecznie gratulujemy!
Congratulations!

Update:
Two days later, June 16th 2016, Maciej Sochal won a silver medal in ball throw during the same championships. The gold medal went to the Russian representative Vladislav Frolov who improved his own record from European Championships with the result of 9,77m. Maciej Sochal threw at a distance of 8,37 and beat Dimitrios Zisidis (8,34m).
Congratulations!
Footage from the final on YouTube:
The Medal Ceremony on YouTube: