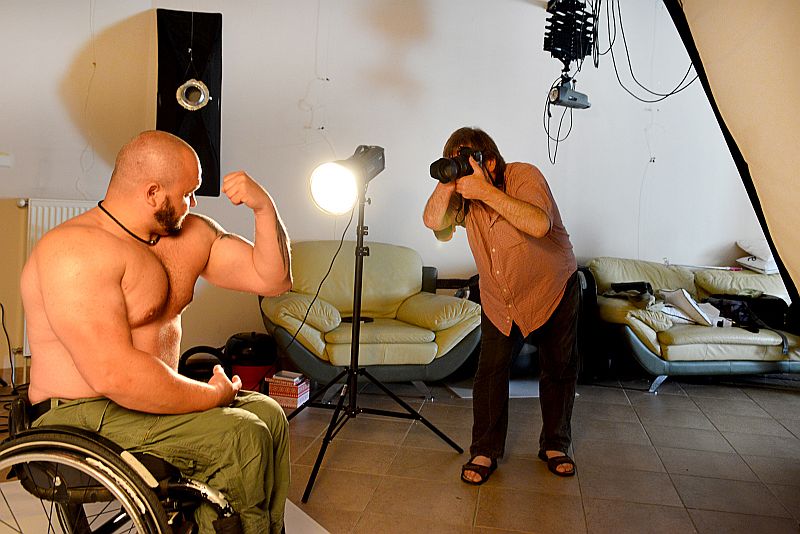 Photo Confrontations 2016 have just finished. Now the photos are being edited. We recommend watching the photo report from backstage.
The first EFF Integration You and Me photo confrontations took place a few years ago in Kołobrzeg and Połczyn Zdrój. The disabled whose passion is photography showed (with the help from Wojciech Szwej and Grzegorz Edward Funk) how they see the world. An outcome of the meetings is a photo collection which my be viewed in the Festival's office.
We came back to the project in 2015 – the name stayed but the form was changed. Five photographers, the members of Association of Polish Art Photographers in Gdańsk met their five disabled models in order to interpret the leitmotif of 12th EFF Integration You and Me 'Image my Strength'. The outcome of the meeting is one of the most unique exhibitions which were available for the public last year in Koszalin.
We came back to this successful project this year. The team of photographers has not changed much: Wojciech Szwej, Edward Grzegorz Funk, Stanisław Składanowski, Zbigniew Felcyn and Jacek Sobociński (instead of Robert Gauer). The models were the sports people: Żaneta Papierska, Monika Szram, Marcin Racinowski, Gracjan Weiler and Maciej Sochal
The headquarters of the Photo Confrontations was once again Gromada Hotel but the photos were taken in different places. On the second day – in a professional fully equipped studio of Edward Grzegorz Funk, on the third day in beautiful Kołobrzeg.
The sessions lasted between 9 a.m. and 6 p.m. without breaks and according to the coordinator – Wojciech Szwej – they were very intense and turbulent.
– "The main topic was the Festival's leitmotif 'Sport Champions, Life Champions'. Apart from this we had no barriers or assumptions but a full freedom of interpretation of the topic. The main role was played by the body, its musculature, shape and beautiful stature of our models. This was a confrontation of artists and sports people's strong personalities. Hard, very creative work."
Now the photos are being edited and 50 of them will be exhibited at the Opening Ceremony of this year's Festival – September 6th.
{gallery}phocagallery/2016/Fotokonfrontacje/Wszystkie,limit=1,limit_quantity=5{/gallery}
See the full gallery HERE