The third visit of the European Film Festival Integration You and Me in the European Parlament in Brussels (Belgium) took place on 29th-30th September 2015. This time the review of festival's films enriched the programme of The ENIL Freedom Drive 2015, an European-wide meeting of activists working for improving life of people with disabilities. A few hundreds of The ENIL Freedom Drive 2015 participants and supporters viewed the presentation of The EFF Integration You and Me and it's best films.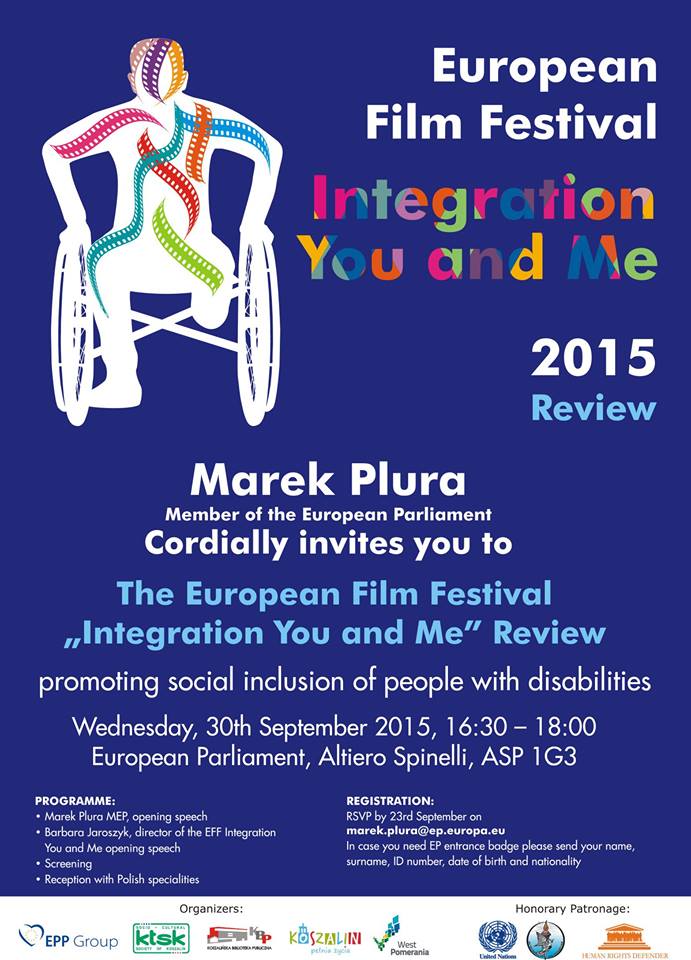 The European Network on Independent Living (ENIL) is an Europe-wide network of people with disabilities, with members throughout Europe. ENIL is a forum for all disabled people, Independent Living organisations and their non-disabled allies on the issues of Independent Living. ENIL represents the disability movement for human rights and social inclusion based on solidarity, peer support, deinstitutionalisation, democracy, self-representation, cross disability and self-determination. ENIL promotes equal opportunities for disabled people and fights against discrimination in Europe. ENIL addresses the under-representation of persons with extensive disabilities in European disability and social politics, as well as in mainstream society.
Every two years ENIL organizes The ENIL Freedom Drive, gathering hundreds of activists. FD meetings, held in Strassbourg until 2013 and for the first time in 2015 in Brussels, are a space for discussions, exchanging experiences and increasing awarenes about independent life of people with disabilities.
The Freeedom Drive 2015 took place from 29th September to 1st October. The theme of the event was: The Next Independent Living Generation! As in previous years, the Freedom Drive provided an opportunity for participants from across Europe to meet with Members of the European Parliament and to discuss issues affecting their lives. The discussed issues included: deinstitutionalisation, personal assistance, inclusive education, employment, portability of Independent Living services across the European Union (EU) and the implementation of the UN Convention on the Rights of Persons with Disabilities in the EU. Other events that took place included the march to the European Parliament, the international conference, the ENIL General Assembly and a social events. The programme included, among others, the following points:
Wednesday September 30th, 2015
12:00 March to the European Parliament
16:30 European Film Festival – Integration You and Me - the review
The review presented two competing films from the 12th EFF Integration You and Me (documentary film "Szpila", dir. Ewa Golis, Poland; feature film "Four Deaf Yorkshiremen go to Blackpool", dir. Charlie Swinbourne, UK), followed by the documentary film "12 meetings with the Butterfly" about the festival itself.
European Film Festival Integration You and Me was visiting the European Parliament for the third time, and the second time thanks to the invitation of MEP Marek Plura.